>> ■
stop/return
Robust DRM with SDC/MSC 4/16 QAM and 14.56 kbit/second in Dolby AAC mono.
Signal Configuration
The DRM signal contains several data streams. Fast access (FAC) is coded with four symbols and describes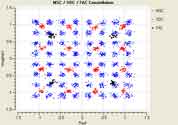 signal configuration. The next (SDC) is coded with four or 16 symbols and describes content so that the receicer may decode it. The main signal (MSC) is coded with 16 or 64 symbols (QAM) and contains streams such as radio programmes, textradio, graphics, photos and data. At reception, the total delay is 0.8-2.4 seconds.
>>
read more