>> ■
stop/return
Video presentation: DRM shaping the future of digital radio.
The DRM System
DRM is an international digital radio system that offers listeners noise free reception of long, medium and short-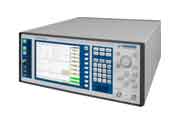 waves worldwide up to 30 MHz. In addition to one or more stereo radio programmes, DRM can transmit textradio, graphics, photos and data. The system has been expanded with DRM+, which utilises frequencies above short waves to the FM band and beyond to 230 MHz. DRM is ETSI Standard ES 201 980 and recommended by the ITU.
>>
read more